4-H In-Person Program Request Related to COVID-19
Are interested in holding an in-person 4-H meeting/event/program? If so, read the information below on how to complete the process for holding an approved in-person 4-H meeting/event/program.
Review the most current WI 4-H Guidelines related to COVID-19 
Complete the Program Planning Checklist for your event.
Submit your completed Program Planning Checklist to Morgan Martinez, 4-H Program Educator, at morgan.martinez@wisc.edu. While Morgan is on maternity leave this form should be submitted to Adam Hady, Area 14 Extension Director at adam.hady@wisc.edu. Allow 5 business days for your checklist to be reviewed.
Your Program Planning Checklist will be reviewed and you will receive notification that your Checklist is either approved or returned for review.
After your event submit Program Participant Log to Morgan Martinez, 4-H Program Educator, at morgan.martinez@wisc.edu. While Morgan is on maternity leave this form should be submitted to Adam Hady, Area 14 Extension Director at adam.hady@wisc.edu.
Morgan will be on Maternity Leave
The Green Lake County 4-H Program Educator is expecting a baby and will be on leave February- May. Please reference the image below for who to contact with 4-H questions while she is away.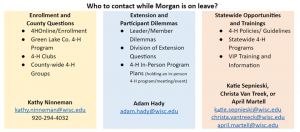 2020 Virtual Youth Awards Program
The 4-H program has a long history of record keeping. The focus reflects the importance of this life skill in our daily lives. In 4-H, young people have tracked their activities, events, profits and losses, skill development and learning experiences, and much more using the iconic 4-H Record Book. In addition to record keeping, the 4-H Record Book gives members an opportunity to reflect on their year, measure their achievements and growth, and set goals, and develop plans to meet those goals.
Many 4-H members in Green Lake County completed the 2019-2020 4-H Record Books in which they have reflected on their growth and exploration of their 4-H year. Throughout the completion of 4-H Record Books, 4-H members share the story of their 4-H year, ways they have given back to their community, and share their goals and progress of goals which they set in various project areas. 4-H Record Books are evaluated at the club level and then nominated to receive county level awards.
We would like to recognize our 4-H youth for their excellence in their project areas!
Green Lake County Extension Office Update- March 19, 2020
Effective March 19, 2020, all Green Lake County buildings will be closed to the public. Should there be time sensitive, critical or emergency services required by the public we will provide those services by appointment only.
The Extension educators are following Wisconsin Department of Health Services, UW-Madison, and federal guidelines due to the COVID-19 virus outbreak. They are working remotely and are available in the following capacities:
Morgan Martinez, 4-H Program Educator
morgan.martinez@wisc.edu or 920-294-4035
Katie Gellings, Health & Well-Being Educator
katie.gellings@wisc.edu or 262-346-4414
Ben Jenkins, Agriculture Agent
ben.jenkins@wisc.edu or 920-294-4037
GREEN LAKE COUNTY 4-H WELCOMES YOU!
 
The 4-H and Community Youth Development programs provide youth education outreach programs by the University of Wisconsin-Extension. The 4-H program works with 9 community clubs in Green Lake County, which meet monthly, along with countywide educational project meetings throughout the year. 4-H facilitates outreach programs with local partner agencies. A summer camp is conducted annually for all county residents. For more information simply download the Green Lake County 4-H Program Guide. If you have any questions, please call, Green Lake County Extension at 920-294-4032.
 WHAT IS 4-H IN GREEN LAKE COUNTY?
4-H is a youth organization that belongs to the members, their families, and other interested adults who serve as volunteer leaders. Professional leadership is given by Cooperative Extension faculty of the University of Wisconsin. Support for 4-H programs is a joint effort of local county government, the University of Wisconsin-Extension, and the U.S. Department of Agriculture.
In 4-H, young people share, grow, and learn together from various projects, events, and activities in informal situations under the guidance of their families and other volunteer adult leaders. Members can choose projects that fit them and the places where they live. Group activities and events such as trips, camps, fairs, shows, and conferences provide additional learning experiences and opportunities.
4-H is open to all youth and adults regardless of their ethnic background, race, creed, or disability. Youth ages 5 – 19 have the opportunity to join a 4-H community club. Parents, guardians, and other caring adults are encouraged to participate as volunteer leaders. Most 4-H clubs have meetings for the entire membership once a month. During these meetings, decisions are made about group-sponsored activities such as community service efforts, project opportunities and fund-raising efforts.
Regardless of the structure, a 4-H group may involve families, neighbors, relatives, and others. Participants have fun learning, working, and succeeding together in the home, neighborhood, and community.
WHAT IS A 4-H PROJECT?
In clubs, 4-H members decide for themselves which projects they want to learn more about.  A 4-H project is a series of hands-on learning experiences in which youth learn subject matter and life skills. Projects are done both individually and as a group.
4-H'ers everywhere are linked in many ways, especially by the 4-H pledge which they all recite: I pledge… My HEAD to clearer thinking, My HEART to greater loyalty, My HANDS to larger service, My HEALTH to better living for my club, my community, my country, and my world.
Interested in joining Green Lake County 4-H? Click here to see which clubs meet near you! Contact the 4-H Club General Leader for more information. To enroll in 4-H as a youth member or an adult volunteer, go to: http://wi.4honline.com or call the Extension Office, 920-294-4032.
---
GREEN LAKE COUNTY 4-H STAFF

If you have questions regarding 4-H Youth Development in Green Lake County, please contact:
Morgan Martinez
4-H Program Educator 
UW-Madison Division of Extension – Green Lake County
571 County Road A
Green Lake, WI 54941-8630
Phone: 920-294-4035
Fax: 920-294-4176
morgan.martinez@wisc.edu

Kathy Ninneman, Fair and Office Coordinator
UW-Madison Division of Extension – Green Lake County
571 County Road A
Green Lake, WI 54941-8630
Phone: 920-294-4032
Fax: 920-294-4176 
kathy.ninneman@wisc.edu