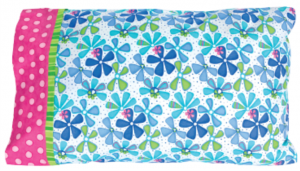 Join the Green Lake County Fair by participating in our first community service project called PROJECT PILLOWCASE from June 1 through December 15, 2019.
Anyone can participate!  Share with individuals, clubs, organizations, schools, churches, libraries. etc.
Participate by sewing a pillowcase for a child with a life-threatening or serious illness.  All pillowcases will be donated to the Ronald McDonald House Charities-Eastern Wisconsin.  Help us bring a smile to these young patients and their families and make their hospital stay s pleasant as possible.
We ask that the fabric be cheery, bright, fun cotton fabric
NO FLEECE PLEASE
Instructions below
Simply put your pillowcase in a zip lock bag and drop off at the Green Lake County Government Center, 571 County Road A (West Wing, Second Floor).  Office hours are 8:00 am to 4:30 pm Monday through Friday.
Source:  Rosanelli, Annette & Rickert, Chris, Needlepointers.com, March 9, 2015, Pillowcase – How to make a pillowcase.  Retrieved from https://www.youtube.com/watch?v=G7dOt8nKhLc.